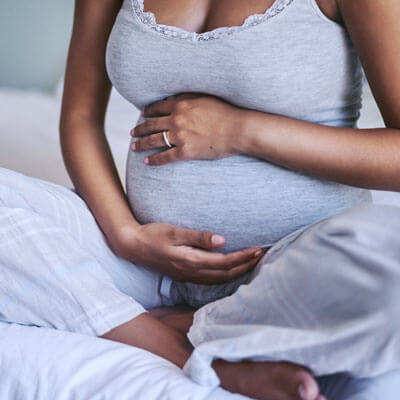 Pregnancy Chiropractic
When you are pregnant, your body undergoes tremendous changes in a relatively short time. All of these changes can affect the joints of your spine, pelvis and extremities, and often lead to pain.
The good news is, chiropractic care is safe and effective during pregnancy, and may help you have a more enjoyable, comfortable pregnancy and smoother delivery process.
Experienced Care
At Town Center Chiropractic, we have been helping moms-to-be for over twenty years, with our gentle adjusting techniques and soft tissue therapy. The hormone relaxin is released during pregnancy, and it's this hormone that allows your joints and ligaments to loosen in preparation for birth.
NEW Patients

Since the relaxin makes your joints and ligaments looser when you're pregnant, adjustments are quite easy. It's usually a simple process to keep your body aligned and moving properly.
Dr. Nicolas has even adjusted women up through the day of delivery—in one case, the mom wasn't progressing and her OB sent her to us for an adjustment. Dr. Nicolas adjusted her, and she returned to the hospital and delivered a healthy baby.
Benefits of Chiropractic
We know you don't want to take medication while you're pregnant, but that doesn't mean you have to suffer! Chiropractic adjustments are safe, non-invasive and drug-free, and they can help keep you comfortable so you can enjoy this special time more. Chiropractic may also help the birthing process by keeping the pelvis balanced and aligned.
Because pregnant bodies tend to respond so quickly to chiropractic, we usually don't need to see you continuously throughout your pregnancy. Typically, our moms-to-be come in for a few visits to resolve their pain or discomfort, and that's all they need. Of course, your care will be tailored to your specific needs—we don't use a cookie-cutter approach here.
 Book Today
Contact us today to schedule your first prenatal chiropractic appointment with our experienced chiropractor.
CONTACT US

Pregnancy Chiropractic Columbia, Baltimore MD | Town Center Chiropractic