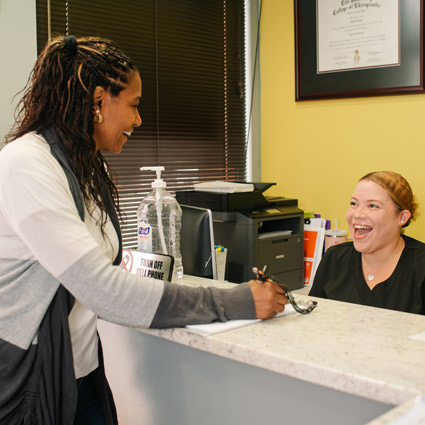 Chiropractor in Baltimore
Baltimore chiropractor Dr. Phillip Nicolas has over twenty years' experience helping patients of all ages in our Columbia location. In 2023, he brought his skills and expertise to the Midtown area (specifically, the Arts District). Baltimore Rehab and Chiropractic Center allows us to offer the same life-changing care to people who live and work in the city.
With a medically oriented approach to care, Dr. Nicolas focuses on accurate diagnoses and customized care to correct the underlying cause of your pain or other symptoms. In addition to chiropractic care, we offer cold laser therapy and healing modalities such as stim, heat and traction.
MEET THE DOCTOR

Dr. Nicolas is passionate about providing care for patients of all ages, including pregnant women. He also creates custom care plans for people hurt in auto accidents (or other personal injury situations), as well as for people with neuropathy. Dr. Nicolas also has special expertise in helping patients dealing with rib pain.
Rib pain (costochondritis) can be a particularly difficult condition, with severe pain that may feel like you're having a heart attack. It's caused when the cartilage that connects the rib to the sternum becomes inflamed—which often occurs when a rib is out of its proper position. Our specialized approach to this painful situation has saved many patients from an unnecessary trip to the ER.
We strive to make getting the care you need easy and accessible. We're located one block off the highway, near Penn Station, with a bus stop and parking directly across the street. Our brand-new space is modern, upbeat and friendly, and we are in-network with many insurance plans.
Our Approach
Using a scientific approach to care, Dr. Nicolas takes the time to help patients understand what's going on with their spine. We want you to understand the cause of your pain, so you can take steps to prevent it from occurring in the future, and so you don't panic if it returns. Taking the time to educate our patients sets us apart from many other types of providers.
We begin with a consultation and thorough examination to accurately diagnose the underlying cause of your pain or symptoms, and then create a plan of action to correct the problem.
Schedule Today
We are in-network with many insurance plans. Contact us today to book your first appointment with our experienced Baltimore chiropractor.
CONTACT US

Chiropractor Baltimore MD | (410) 992-7730