Chiropractic Care
Your spine is designed to move, with all the vertebrae working together to create the stability, structure and motion we need to go about our daily lives. When something happens to disrupt the normal movement of your spinal joints (a condition called a subluxation), a wide range of symptoms may result, including pain, loss of mobility and other types of dysfunction. Subluxations may include spinal or extremity joints that are "stuck" and not moving as they should, as well as bones that are not properly aligned.
Chiropractic care is a natural healthcare method that locates areas of subluxation and corrects them with safe, effective adjustments designed to restore proper alignment and movement to the joints.
NEW Patients

At Town Center Chiropractic, we have over twenty years' experience helping patients of all ages with our evidence-based, scientific approach to care.
Customized Care
Your care will be tailored to your specific needs and goals, and it's not our intention to see you forever—we want to help you get better quickly and efficiently! We also believe in educating our patients about the cause of their condition and lifestyle factors that they can change to help reduce the chance of a recurrence of the problem.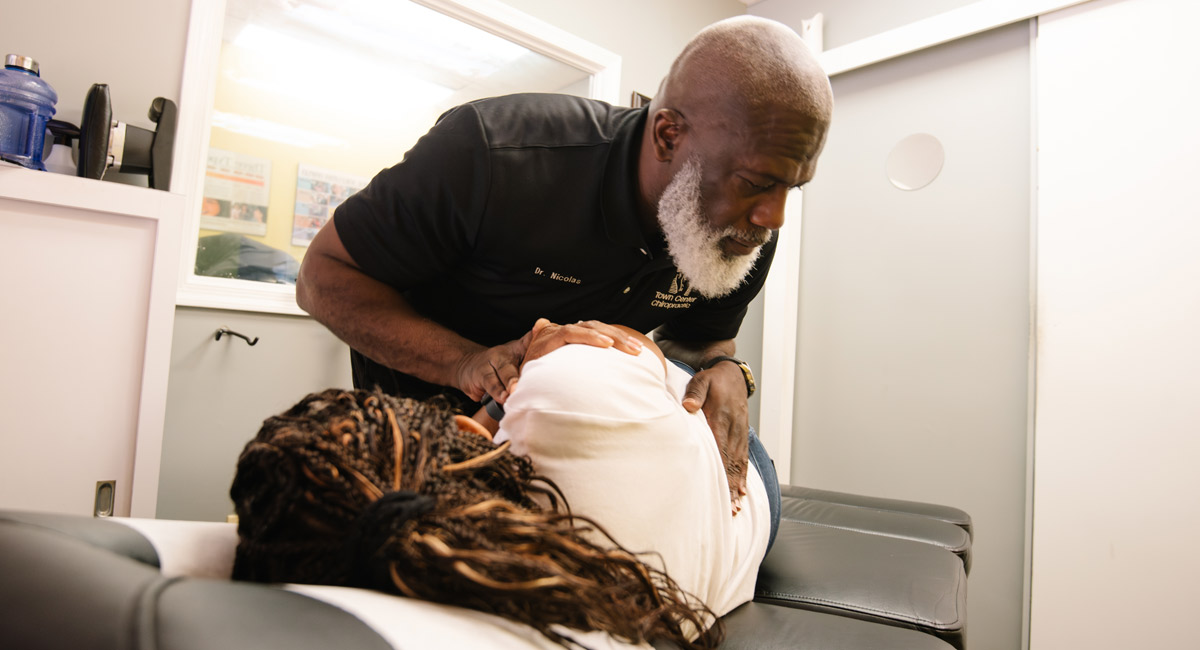 Our Techniques
Dr. Nicolas brings a wealth of experience and expertise to effectively address your concern. He offers various adjusting techniques, including:
Activator Methods®
ArthroStim®
Cox Flexion Distraction
Diversified
Extremity Adjusting
Spinal Decompression
Thompson
Trigger Point Therapy
In addition, we offer cold laser therapy, which can often be effective in reducing neuropathy symptoms.
Who We Help
Patients come to us with many different neuromusculoskeletal conditions, such as:
Arthritis
Back pain
Disc injuries
Neck pain
Dr. Nicolas is a specialist in helping patients with costochondritis, which is a painful condition that can be difficult to diagnose.
Book an Appointment Today
We're excited to meet you and discuss your health goals.
Contact us today to get started with care.
CONTACT US

Chiropractic Care | Town Center Chiropractic